Exercises in Rootsystem Domestication
Diana Scherer
2020, Plantrootweaving
Exercises in Rootsystem Domestication is a tapestry grown from plant roots. Scherer approaches the root system as if it were yarn. For example, the refined, white root structure of grass reminds her of silk and the powerful, yellowish strands of the daisy she compares to wool. In collaboration with biologists she developed a technique to control the growth of plant roots.
In the Exercises in Rootsystem Domestication project the natural network of the root system turns into a textile -like material. Using templates as moulds, the roots are channelled, forming the new material. During the growth process the roots conform to her patterns and the textile weaves itself below ground. 
The Exercises in Rootsystem Domestication project was honoured to receive the New Material Fellow Award.

Diana Scherer (Netherlands/Germany) is a visual artist living and working in Amsterdam.  She is born in Lauingen Germany and studied fine art at the Rietveld Academy in Amsterdam. Her practice encompasses photography, material research, plant root-weaving and sculpture. Over the past years she has exhibited in several international solo and group shows. Recent shows include Earth Matters; Textile Museum Tilburg, Art & Science Exhibition Tasis National Museum Beijing, Springtide; Photography Museum Rotterdam. Currently her work  Rootbound # 2, a dress grown from plantroots, is  featured in the exhibition Fashioned from Nature at the Victoria & Albert Museum in London and Shenzhen. She published two books at Van Zoetendaal Publishers; Nurture Studies 2014 and Mädchen  2016.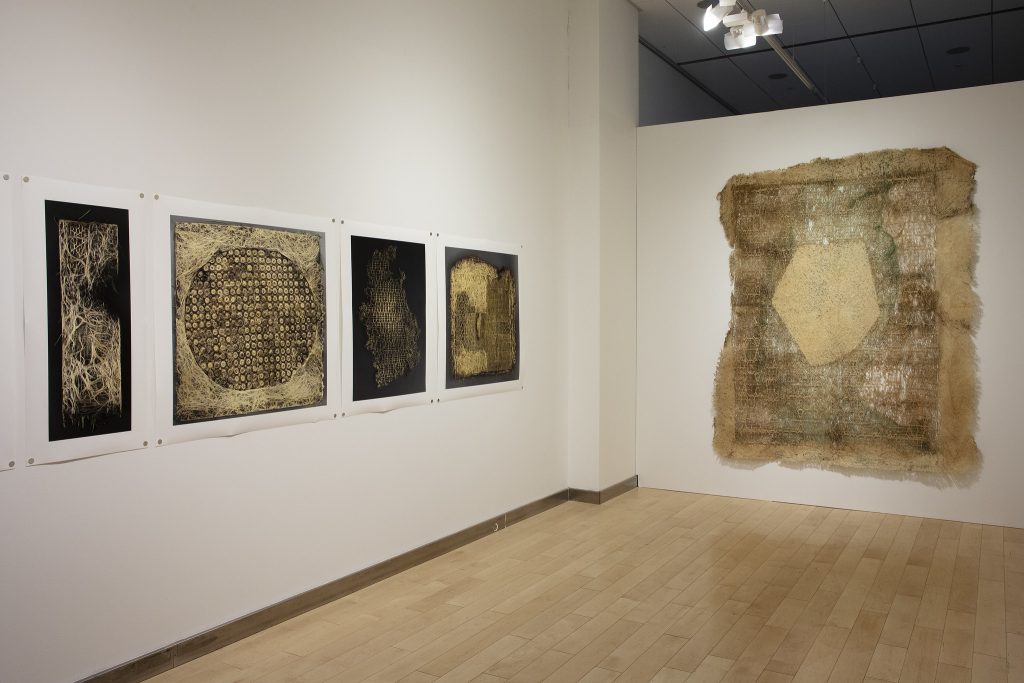 Vingrinājumi sakņu sistēmas pieradināšanai
Diāna Šērera
2020, Augu sakņu aušana
Vingrinājumi sakņu sistēmas pieradināšanai ir gobelēns, kas ir darināts, audzējot augu saknes. Māksliniece attiecas pret saknēm kā pret dziju. Piemēram, izsmalcinātā, baltā zāles sakņu struktūra viņai atgādina zīdu, kamēr stiprās un dzeltenīgās margrietiņu šķiedras, viņa pielīdzina vilnai. Sadarbībā ar biologiem viņa izstrādāja tehniku, kas kontrolētu augu sakņu augšanu.
Projektā Vingrinājumi sakņu sistēmas pieradināšanai sakņu sistēmas dabiskais tīkls pārvēršas par tekstilizstrādājumiem līdzīgu materiālu. Izmantojot veidnes, saknes tiek virzītas, lai izveidotu jauno materiālu. Augšanas procesā saknes iegūst autores veidoto veidņu formu un tekstils zem zemes sāk sevi aust pats.
Projekts Vingrinājumi sakņu sistēmas pieradināšanai ir saņēmis Jaunā materiāla biedra balvu.
Diāna Šērere (Nīderlande/Vācija) ir māksliniece vizuālās mākslas jomā, kas dzīvo un strādā Amsterdamā. Viņa ir dzimusi Lauingenā, Vācijā un studējusi tēlotājmākslu Rietveldas akadēmijā Amsterdamā. Savā mākslas praksē viņa strādā ar fotogrāfijām, materiālu izpēti, augu sakņu aušanu un tēlniecību. Pēdējo gadu laikā viņa ir izstādījusi savus mākslas darbus vairākās starptautiskās personālizstādēs un grupu izstādēs. Jaunākās māksliniece izstādes ir: Zeme ir nozīmīga; Tekstilizstrādājumu muzejs Tilburga, mākslas un zinātnes izstāde Tasis Nacionālajā muzejā Pekinā, Pavasara plūdmaiņas; Fotogrāfiju muzejs Roterdama. Pašlaik viņas darbs Ar saknēm sasaistītais # 2, kleita, kas audzēta no augu saknēm, ir apskatāma izstādē Veidots no dabas Viktorijas un Alberta muzejā Londonā un Šeņdžeņā.Viņa ir publicējusi divas grāmatas izdevniecībā Van Zoetendaal: Audzināšanas studijas (2014) un Meitene (2016).