Screened For
Elaine Whittaker
2015, Digital prints, Petri Dishes with Halobacterium sp. NRC-1.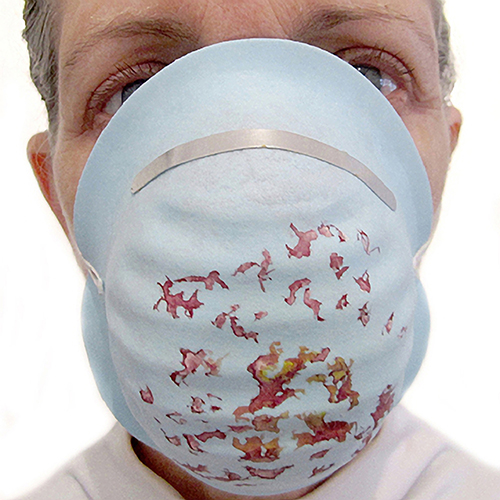 Screened For is a series of 12 digital prints that turn fear of the viral, of the microbial, and of impending pandemics, into beauty. The images are larger than life self portraits of the artist wearing medical masks painted with an array of microbial infectious diseases – Ebola, Dengue Fever, West Nile Fever, Cholera, Rabies, Rotavirus, Plague, HIV/AIDS, Malaria, Tuberculosis, SARS, West Nile Virus. With eyes closed or peering out tentatively, she asks the viewer to consider that fear and beauty reside in an uncomfortable dialectic, in this precarious time of contagions, epidemics, pandemics and bioterrors.
Elaine Whittaker is a Canadian installation artist working at the intersection of art, medicine, ecology and biological science. She has exhibited in art and science galleries and museums in Canada, Mexico, Italy, UK, Ireland, China, South Korea, Australia, & the U.S. She recently exhibited at the Pompidou Centre (France, 2019) with artworks created as Artist-in-Residence with the Pelling Laboratory for Augmented Biology (Ottawa, Canada). Artworks have also been highlighted in literary, art, and medical journals, & are featured in William Myers' BioArt: Altered Realities, published by Thames & Hudson (2015).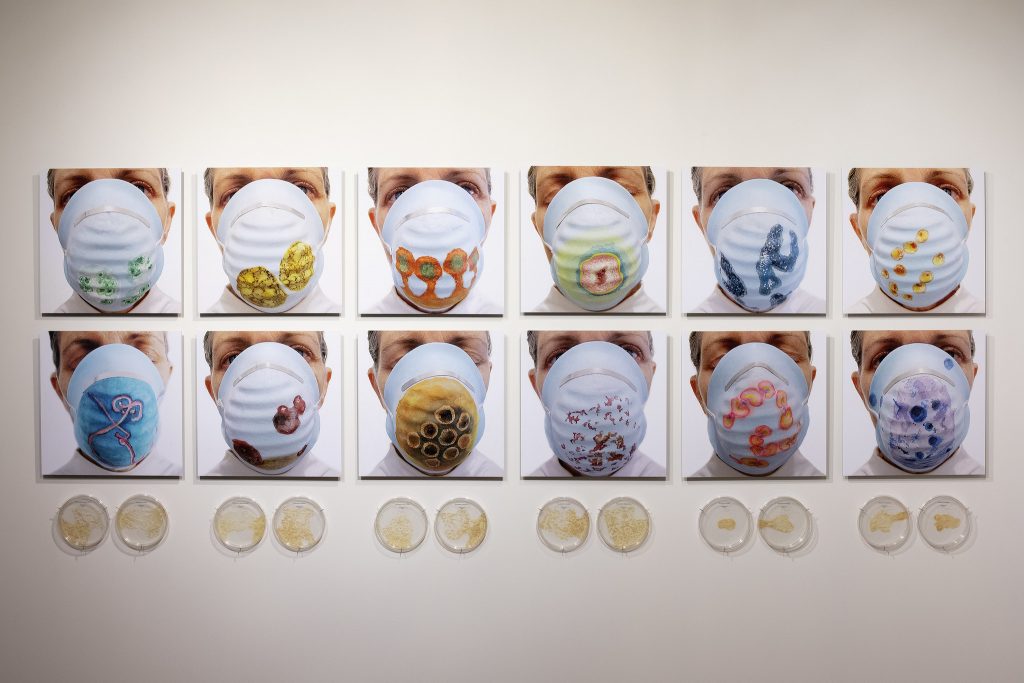 Pārbaudīts pret
Elēna Vitakere 
2015, Digitālās izdrukas, petri trauki ar Halobacterium sp. NRC-1.
Pārbaudīts pret ir 12 digitālu izdruku sērija, kas bailes no vīrusiem, mikrobiem un gaidāmajām pandēmijām pārvērš par kaut ko skaistu. Fotogrāfijās ir attēloti mākslinieces pašportreti ar medīciniskām maskām, kas ir noklātas ar mikrobu infekcijas slimību zīmējumiem – Ebolu, Dengu drudzi, Rietumnīlas drudzi, holeru, trakumsērgu, rotavīrusu, mēri, HIV / AIDS, malāriju, tuberkulozi, SARS, Rietumnīlas vīrusu. Aizvērtām acīm vai provizoriski lūkojoties, viņa lūdz skatītāju aizdomāties par to, ka šajā nedrošajā saslimšanas, epidēmiju, pandēmiju un "bioterrora" laikā, bailes un skaistums līdzpastāv neērtā dialektikā.

Elēna Vitakere ir kanādiešu instalāciju māksliniece, kas strādā krustojumā starp mākslu, medicīnu, ekoloģiju un bioloģiskio zinātni. Viņas darbi ir tikuši izstādīti mākslas un zinātnes galerijās un muzejos Kanādā, Meksikā, Itālijā, Lielbritānijā, Īrijā, Ķīnā, Dienvidkorejā, Austrālijā un ASV. Māksliniece savus darbus, kas tapa mākslinieku rezidencē sadarbībā ar Augmentētās realitātes Pelinga laboratoriju (Otavā, Kanādā) nesen izstādīja Pompidū centrā (Francijā, 2019. gadā).