Data Projector
Semiconductor
2013, Multi-channel SD, video installation
Data Projector is an installation which considers scientific data as a representation of nature. 
A projection shows a series of images which were collected by an experimental observation tower positioned in the heart of Alice Holt Research Forest, UK. Through the course of capturing and processing the data, nature has taken on new forms now bearing the signature of the human hand; canopy and forest floor videos become snapshots of a forest's yearly cycle through time-lapse capturing and appear as curious circular forms. 
A series of sculptural drawings, 365 days of data, image the same data humanising it in a way which offers new perspectives of the physical world.
The view of the clunky observation tower and the handmade carbon paper, suggest the presence of humans as observers trying to make sense of the world. Yet, there's also a precision which comes with the data, bringing structure and rhythm and adding a sense of complexity to what we see. This conversation between analogue and digital plays with the divide between how science represents nature and how we experience it.
Data courtesy of Phenological Eyes Network (PEN), UK-Japan Collaborative Project. Many thanks to Matthew Wilkinson, Forestry Commission Scientist at Alice Holt Research Station.
Data Projector was made during a research and development period for Jerwood Open Forest and exhibited at Jerwood Space, London, January and February 2014.
Semiconductor is UK artist duo Ruth Jarman and Joe Gerhardt. Their works explore the material nature of our physical world and how we experience it through the lens of science and technology.From animating the trajectories of subatomic particles, to tracing planetary orbits around the sun, Semiconductor's works confront the viewer with the beauty and complexity of the material world.
2018 and 2019 included solo shows at; City Gallery, Wellington New Zealand; Art Basel, Switzerland; Le Lieu Unique Nantes, France; and Santiago Media Art Biennial, Chile. Group shows; Science Gallery, London; CCCB, Barcelona; The 21st Biennale of Sydney, Australia; Groundwork, CAST, Cornwall.
Residencies include: Arts at CERN; Smithsonian National Museum of Natural History; and The NASA Space Sciences Laboratory.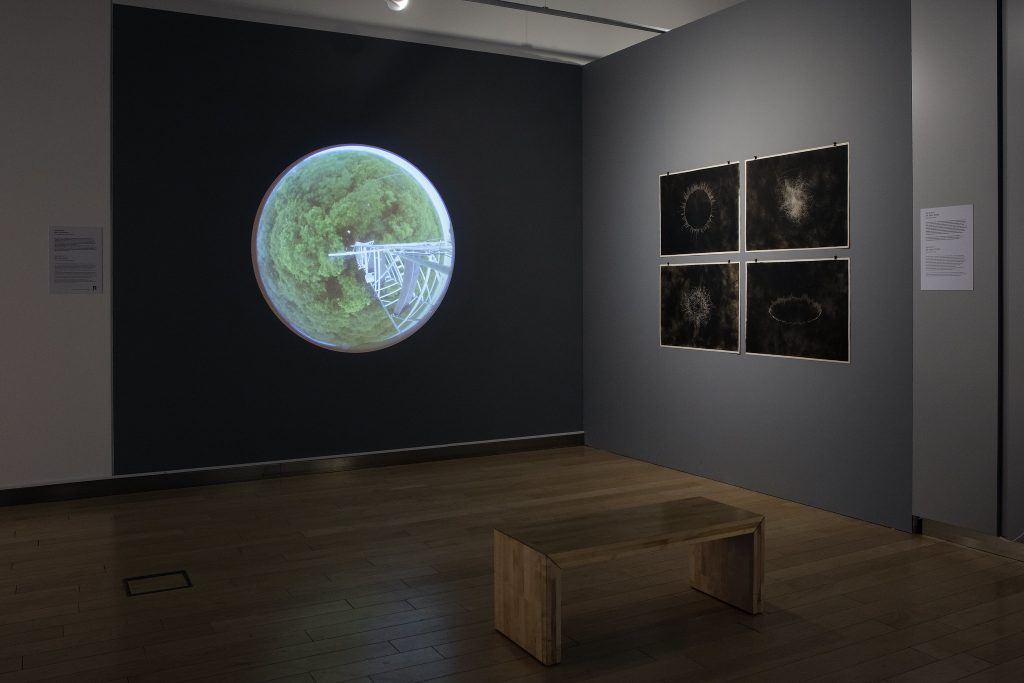 Datu projektors
Semiconductor
2013, Daudzkanālu SD, video instalācija
Datu projektors ir instalācija, kurā zinātniski dati kļūst par dabas atspoguļojumu.
Projekcijā ir redzama attēlu sērija, kurus uzņēma eksperimentāls skatu tornis, Alises Holtas pētījumu meža biezoknī, Lielbritānijā. Datu reģistrēšanas un apstrādes procesa laikā daba ieguva jaunas formas, kurās ir jaušama cilvēku roku klātbūtne; videoklipi ar lapotnēm un zemes virsmu kļūst par momentuzņēmumiem meža gada ciklā. Paātrinātā video, tie līdzinās neparastām apļveida formām.
Skulpturālu zīmējumu sērija 365 datu dienas attēlo šos pašus datus – tie cilvēcisko tos tādā veidā, ka tie spēj piedāvāt jaunas fiziskās pasaules perspektīvas.
Skats uz neveiklo skatu torni un rokām darināto oglekļa papīru liek domāt par cilvēku klātbūtni kā novērotājiem, kas cenšas saprast pasauli. Tomēr ir saskatāma arī datu radītā precizitāte, apveltot darbu ar struktūru un ritmu un piešķirot redzamajam sarežģītības dimensiju. Šī saruna starp analogo un digitālo spēlējas ar plaisu starp to, kā zinātne attēlo dabu un kā mēs to piedzīvojam.
Dati tika iegūti Lielbritānijas un Japānas sadarbības projekta Phenological Eyes Network (PEN) ietvaros. Liels paldies Metjū Vilkinsonam un Alises Holtas pētījumu stacijas Mežsaimniecības komisijas zinātniekam. Datu projektors tika izgatavots Jerwood Open Forest izpētes un izstrādes periodā un tika izstādīts Jerwood Space, Londonā, 2014. gada janvārī un februārī.
Semiconductor ir pseidonīms Lielbritānijas mākslinieku duetam – Rūtai Džarmanai un Džo Gerhardam. Viņu darbi pēta mūsu fiziskās pasaules materiālo dabu un to, kā mēs to piedzīvojam, izmantojot zinātnes un tehnoloģiju perspektīvu.
Sākot no subatomisko daļiņu trajektoriju animācijas līdz planētu orbītu izsekošanai ap sauli, Semiconductor darbi nostāda skatītāju materiālās pasaules skaistuma un sarežģītības priekšā.
2018. un 2019. gadā mākslinieku darbi tika iekļauti personālizstādēs Pilsētas galerijā; Velingtonā, Jaunzēlandē; mākslas gadatirgū Art Basel, Šveicē; kultūras centrā Le Lieu Unique Nantesā, Francijā un Santjago mediju māksla biennālē, Čīlē. Grupu izstādēs: Zinātnes galerijā, Londonā; kultūras centrā CCCB, Barselonā; 21. Sidnejas biennālē, Austrālijā; organizācijas CAST mākslas projektā Pamatdarbi, Kornvolā, Lielbritānijā.Rezidences: Eiropas kodolpētījumu organizācijas CERN mākslas un zinātnes programma Arts; Smitsonijas Nacionālais dabas vēstures muzejs un NASA Kosmosa zinātņu laboratorija.